UHF NXDN™ Digital Liberty Repeater More Coverage For Less Money
Aug 09, 2018
CARMEL, INDIANA - Ritron, Inc. announced availability of the NXDN Digital version of the popular full-duplex, on-site UHF Liberty repeater. The NXDN Liberty repeater operates in the 450-470MHz band at 6.25 kHz super narrowband using the NXDN digital protocol. It is capable of up to 10 watts of transmit power (as measured at the output of the type-N antenna connector), 1 channel operation, and up to 10 user groups using RAN codes. The digital repeater is fully compatible with any other brand of conventional NXDN digital radios. The Liberty repeater is housed in a rugged, power-coated aluminum enclosure with built-in heavy duty mounting flanges. The Liberty Repeater includes its own 4-cavity, notch-type duplexer and 110VAC to 12VDC power supply. Antenna and cable not included.

The NXDN Digital Liberty repeater is ideal to extend portable radio coverage in many applications such as: Schools, Hospitals, Assisted Living Communities, Manufacturing Plants, Shopping Malls, Warehouses, Construction Sites, and Golf Courses.

Designed and Made In The USA.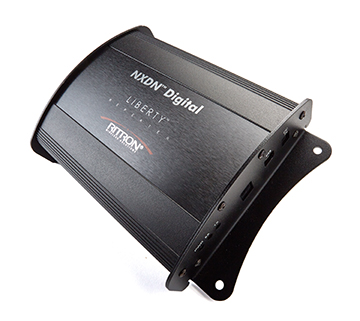 About Ritron Inc. - Founded in 1977, Ritron, Inc., is a privately held U.S. company specializing in the design and manufacture of industrial grade wireless voice and data communication products. The company provides wireless solutions to the commercial, industrial, military, OEM and integrator markets. For more information call 800-872-1872 or visit our website at www.ritron.com.
PDF Download (78.5KB)